Thanks for your interest in our unique line of handmade cigars. Our goal is to bring you finely crafted cigars that are lovingly hand rolled using exquisite blends from around the world. Part of our mission is also to help raise awareness and financial support for persecuted & displaced Christians, particularly those suffering hardship as a result of the recent conflicts in the Middle East. A portion of the proceeds from the sale of Regina Cigars will go to "Aid to the Church in Need" which seeks to supply emotional, material & spiritual support to hurting Christians around the world. We have already been able to donate $5000.00 in proceeds to help in their mission. With your continued purchases, we hope to be able to greatly increase that amount over the coming months.
Thank you again for choosing Regina Cigars...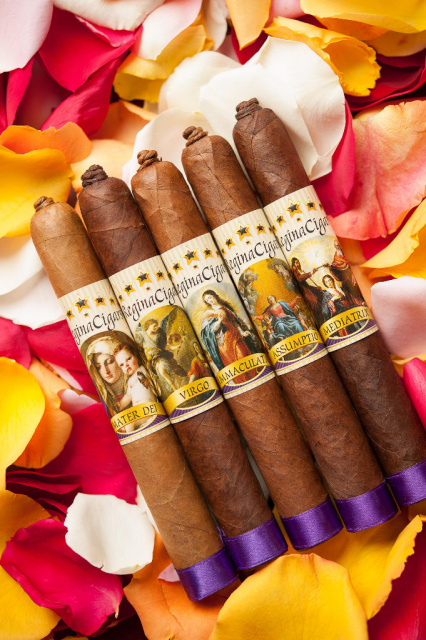 Regina Cigars will be featured on EWTN's "At Home with Jim & Joy" Television show July 13th @ 2PM EST

Regina Cigars..."Every Leaf Wrapped in Beauty!"
Click any icon below to follow us on social media...
NO SALES TO ANYONE UNDER 21 YEARS OLD.
WE SHIP VIA USPS OR UPS ADULT SIGNATURE REQUIRED.
IF YOU ARE UNDER 21 YOU WILL NOT BE ABLE TO RECEIVE OUR CIGARS!