| | |
| --- | --- |
| Price: | $14.95 |
| Availability: | IN STOCK |
| Prod. Code: | LAUDAFILIA |
This is our 2nd, in a series of 3 total, Miami Limited Edition Blends being released this year. "Lauda Filia" (Latin for Rejoice O Daughter) is in honor of my 6 beautiful daughters. My girls bring great sweetness & beauty into my life and they have revealed an untapped depth within my paternal heart. This blend was designed to celebrate that sweet yet deep connection between dads & daughters. Don't let the cute little face on the band fool you though. This cigar has its own sweet beauty, but also a hidden depth of flavor that comes from within, similar to the zealous love a father has for his little girl(s). This cigar measures 6 inches x 52 ring gauge and is lovingly produced exclusively for Regina Cigars by a boutique, family run factory in Miami, FL. The blend sports a smooth but intense recipe featuring a Connecticut wrapper, and undisclosed long leaf binder & filler tobaccos. The flavors of distinct note are sweet hints of citrus, cream & coriander.The cigar is medium bodied in strength and is elegantly wrapped in our full color cigar bands, to be as pleasing to the eye as it is to the palate. It is a delight to smoke after brunch with coffee and also pairs well with a fruity white wine, crisp lager or your favorite libation. I hope you enjoy it as much as I do. This cigar would be perfect to celebrate the birth of a new daughter or granddaughter...or you can enjoy it whenever you are hankering for a cigar with both finesse & deep flavor.
Thank you for your support of Regina Cigars...Every Leaf Wrapped in Beauty!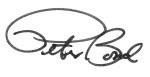 Peter Bond
Founder, Regina Cigars
Regina Cigars ™ was recently featured on EWTN's "At Home with Jim & Joy" TV show
Click HERE or the EWTN banner below to hear our story and learn more about Regina Cigars™:

Regina Cigars..."Every Leaf Wrapped in Beauty!"™
Click any icon below to follow us on social media...
NO SALES TO ANYONE UNDER 21 YEARS OLD.
WE SHIP VIA USPS OR UPS ADULT SIGNATURE REQUIRED.
IF YOU ARE UNDER 21 YOU WILL NOT BE ABLE TO RECEIVE OUR CIGARS!